---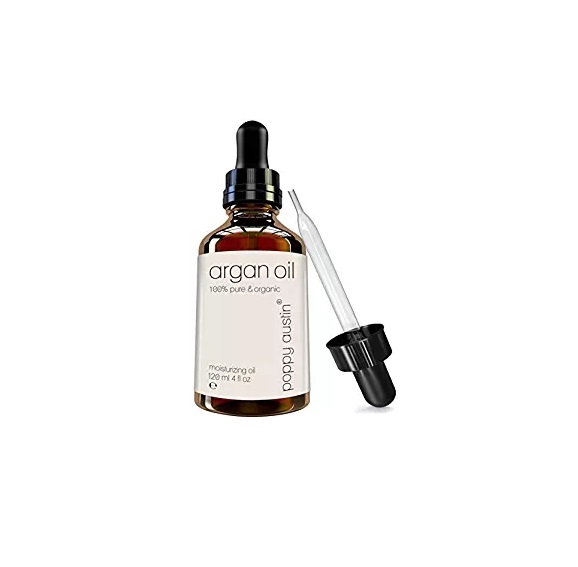 People will use Pure Argan Oil by Poppy Austin for a lot of reasons. This is a product that can help people get soft, moist, and glowing skin fairly easily.
It's capable of actively treating certain skin problems while also potentially preventing some of the skin aging process.
People should be able to resolve chapped lips, dry nails and cuticle issues using Pure Argan Oil by Poppy Austin.
Pure Argan Oil by Poppy Austin is also a useful hair care product that can give people the luster and lack of frizz that they want.
The tremendous utility of a product like this will automatically give it a lot of value in the eyes of many customers, all of whom tend to be concerned about the appearance of their skin and hair on a multi-faceted level.
Formula & Ingredients
Part of the formula for the Pure Argan Oil by Poppy Austin involves vitamin E and essential fatty acids.
This product contains 100 percent argania spinosa oil, or argan oil, and it has few other ingredients.
People can rest assured that the serum does not contain artificial fillers or fragrances and they don't have to worry about that aspect of the product.
It's safe and natural. It's a straightforward product without a lot of ingredients as opposed to a blend, which should make it easier for people to trust it.

Many people will be happy to hear about the fact that this is a product made at Morocco's oldest women's co-operative by hand.
It's a fair trade product, so customers who are more socially conscious will be thrilled with the opportunity to purchase something that will potentially benefit people who are often left out of the cosmetic industry in some way or another.
Product/Brand Guarantee
Of the product guarantees, people can expect a thirty-day manufacturer's money-back guarantee with the Pure Argan Oil by Poppy Austin.
People can also potentially get product discounts at certain points throughout the month, and this should make it easier for them to be able to afford the product in general.
Product Value & Pricing
The fact that people will only get four ounces of fluid in with this product will have an effect on the overall value.
At more than ten dollars an ounce, lot of customers might feel that the cost of the product is overly high if people juxtapose the price of it with what they get.

However, people should generally only need a few drops at once in order to get most of the effects of the Pure Argan Oil by Poppy Austin.
As such, it is possible to make the four ounces last. Given the versatility of a product like this one, the value should be considered in a context separately from the price.
The Pure Argan Oil by Poppy Austin should be able to take the place of several different cosmetic products all at the same time.
Product Effectiveness
Top dermatologists and stylists all like to use the Pure Argan Oil by Poppy Austin and similar products.
This is clearly a product that is favored by individuals who care about getting the best possible results.
People who rely on giving their customers great results for a living will use Pure Argan Oil by Poppy Austin.
This is a product that is truly effective at giving people the quality that they can expect in salons, whether they use it in the salons or not. It is a brand that a lot of professionals trust, and so do their customers.
Customer Satisfaction
Some elderly customers over the age of sixty-five have said that Pure Argan Oil by Poppy Austin made their skin look dewy and managed to lighten the appearance of fine lines and wrinkles.
If this product can do that to customers who are elderly, it can certainly have that effect on people who are much younger.
The famously youthful celebrities like Marian Cotillard and Eva Mendes have said that they use argan oil, and it seems to have helped them maintain a youthful appearance.

The Pure Argan Oil by Poppy Austin is comfortable to use, since it is absorbed into the skin very readily. It's not going to leave any sort of sticky or oily film on the skin at any point.
However, the effect that it has on the skin should still last. People should still find that their skin is shiny, glowing, and dewy following the use of the Pure Argan Oil by Poppy Austin, if customer reviews are any indication.

People who have used it on their hair have reported that it was able to add moisture to their hair without making it greasy at all.
They have also said that Pure Argan Oil by Poppy Austin seems to add depth and volume to the skin and the hair, which makes a big difference.
People who tend to get seasonal skin and hair problems have used it, and they found that a lot of those issues went away.
Pure Argan Oil by Poppy Austin has a formula that is favorable in general and that should allow people to achieve the results that they want broadly.


Final Thoughts

The effectiveness of products that contain argan oil has been fairly well-established by this point in time.
People have reported that this is just the sort of skin and hair treatment that will make them feel better without having to worry about any of the typical side effects that accompany the oils used to moisturize the skin, hair, and nails.
People seem to use this as a hair and skin treatment more often than as a nail treatment, but it should certainly work there as well.
A serum with a formula like this should work well enough for most people that it will have enough value for them to justify the price and the cost of shipping.
People will vary in terms of their needs and wants with cosmetics. However, most people want a beauty product like Pure Argan Oil by Poppy Austin.
---