---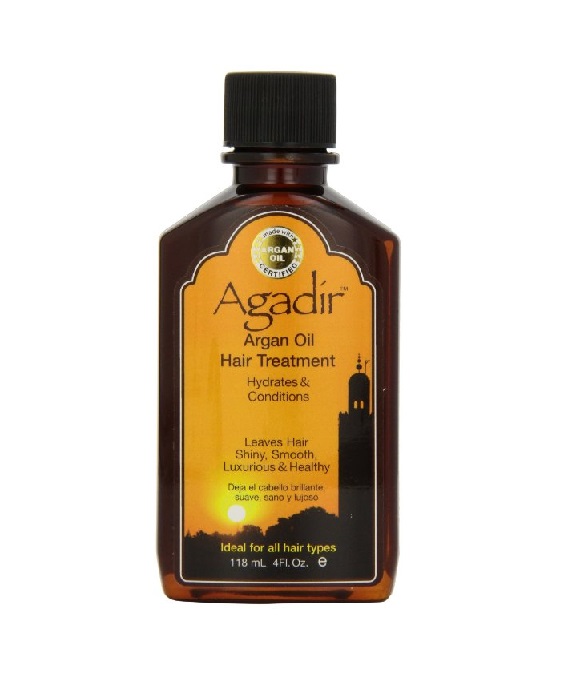 Argan oil is known for its culinary and medical usage in Morocco and other African countries. For thousands of years, argan oil has been a beauty "industry" staple.
The oil contains Vitamin E, phenolic compounds, and unsaturated fatty acids.
Studies indicate that Argan oil makes an excellent moisturizer and treats a myriad of hair conditions such as dry and frizzled hair.
Argan Oil hair treatment hydrates, conditions, shines, and smooths hair. It can be used with heat-based appliances such as flat irons and blow dryers.
This product seems to repair and adds elasticity to fizzled and dry hair. It protects hair against chemical damage and heat.
The product claims to work almost instantly, and a 4-ounce bottle can last for three months depending on the specific usage. We wanted to find out more about Agadir.


Formula & Ingredients
The leave-in hair treatment contains a blend of active and inactive ingredients. The argan oil extracts are one of the main and natural ingredients in the product.
The hair treatment has a unique formula that contains one of the world's rarest oils, Argania Spinosa or Argan Oil. It is 100 percent certified organic and natural.
The leave-in treatment is instantly absorbed into the hair, it's non-greasy, and it nourishes and strengthens the hair. It is alcohol free and has ingredients that moisturizes hair as well.
The active blend of ingredients helps to repair split ends, prevent color fading, and unwanted breakage. However, the product contains silicone elements that do not work well on fine and light textured hair and are some cause for alarm.

The specific ingredients in Agadir Argan Oil Hair Treatment include:

● Cyclopentasiloxane
● Cyxlpmethicone
● Dimethicone
● Argan Oil
● Phenyl Trimethicone
● Caprylyl Methicone
● Benzyl Benzoate
● Citronellol
● Coumarin
● Geraniol
● Hexyl Cinnmal
● Coumarin
● Alpha-Isomethyly Ionine
● Fragrance
Comparison to other hair treatments
Argan oil hair treatment contains 100 percent freshly pressed, high-grade argan oil.
Argan oil is well known to revitalize dry and frizzy hair among a host of other health benefits. Additionally, you can apply the treatment before or after washing the hair.
Use the treatment before shampooing, hair color application, blow drying, styling, or curling. Apply a few drops on your hair before swimming and to protect the hair against sun damage.
The argan hair oil offers incredible results compared to many of the chemical treatment options, despite its high price tag. Most of the industrial beauty products contain harmful chemicals such as plasticizers, carcinogenic substances, and toxins.
Studies reveal that 40 percent of products listed as "natural" were linked to toxic chemicals that can cause cancer. If you are keen on preserving your hair without exposing yourself to chemical dangers, Argan oil hair treatment works very well.
It only takes a few drops to create a huge change in your hair treatment routine.
The products are clinically and scientifically tested. There is a lot of documented information on the benefits of argan oil on the hair and skin. Also, the users' testimonies provide ample evidence of the product's general effectiveness.
Product/Brand Guarantee
Argan hair oil treatment is a product of Agadir International which is a reputable company with 50 years of experience in the hair and beauty industry.
The company deals with other hair care products such as spray treatments, shampoos, and styling tools.
The company has salons and wholesale distributors. Also, they sell their products through third-party sellers such as Amazon and other online retailers. The product is available on their website as well.

The company and its other retailers and suppliers have a responsive customer care team. Clients can reach out to them via email, local and international calls, or live chat support any time of day or night. Our test message was returned quickly.

The manufacturer offers a 30-day money-back guarantee. However, the client pays for return shipping. The seller covers purchase price and original shipping cost.
Product Value & Pricing
Different sellers have different prices. However, the product ranges from $24- $39.
Despite the varying prices, the hair treatment tends to display the same reliable effectiveness. Compared to other hair treatment brands in the market, Argan oil hair treatment contains natural ingredients and works almost instantly.
Although it contains silicone, it does not contain harmful chemical elements such as plasticizers that affect the quality of hair. It is worth the high price tag, and very few products on the market match its effectiveness.
Product Effectiveness
Agadir Argan oil hair treatment is a 100 percent certified and pure argan oil product intended for hair treatment.
The product claims to soften tresses, encourage hair growth, and reduce drying time for wet hair.
It is a leave-in moisturizer with various application techniques and is best used for the treatment of strands and not a mane/scalp treatment.
The majority of Agadir Argan oil treatment users loved the results, even those with coarse hair.
The hair of the users showed improved texture and shine for those who used the product consistently.
However, some customers used the product as a conditioner instead of a leave-in treatment. All in all, they seemed to be happy with the results.
Sadly, other people felt cheated with the addition of silicone in the product. Silicone does not work well for women with fine and light colored locks.
However, those with dark and coarse hair types reported in the product's favor when reviewing effectiveness. For best results, use the product as recommended.
Customer Satisfaction
Based on the users' reviews, Argan oil treatment is a life saver. According to users, the product works best on wet and dark coarse hair.
When used as a conditioner, it detangles the hair making it easy to comb. Unlike other Argan oil or different hair treatment options, this particular argan hair makes the hair stronger, shinier, and softer.
Some of the users loved the fragrance of the oil as well. They liked this product.
Some women felt the perfume was too strong and the product was too expensive.
Others distrusted the claims that the product was entirely 100 percent natural.
The majority of the product users would re-purchase the product in the future.
Some have used the leave-in treatment for as long as five years. However, others found the product effective but said they'd rather buy an alternative hair oil treatment option because of issues such as the fragrance and/or price.

Final Thoughts

The leave-in treatment has a blend of ingredients that works magic on the hair and contains no alcohol. Despite its high price, few other products matched the effectiveness. It is a product most hairdressers and experts would recommend.
However, the product is not ideal for people with fine and light hair. Silicone causes the hair to become oily and wears it down.
Silicone is known to cause heavy and waxy build up. Dark and coarse hair will not suffer that fate.
Use the product consistently and as directed for the best results.
---