---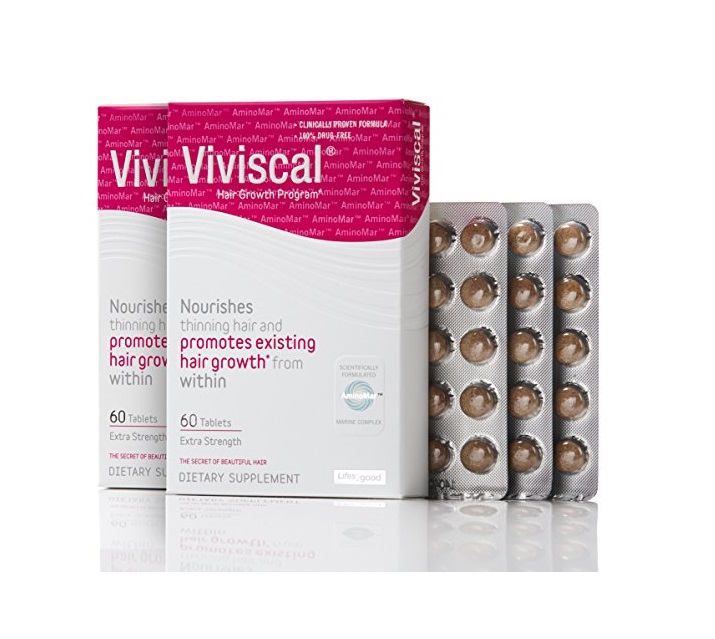 Viviscal is a 100% drug-free hair growth and loss reduction group of products sold by a company called Lifes2Good. It has been praised the world over as one of the most effective hair growth products and consistently said to be better than similar products sold by different companies. We wanted to find out for ourselves, too.

Viviscal can be used by both men and women who face problems such as hair thinning, hair loss, androgenic alopecia (male pattern baldness), and poor hair conditions. Due to the ingredients used in the products, consumers have also reported improvement in the health condition of their nails and eyelashes.
As the body requirements of males and females are different, the entire Viviscal group of products is divided into 2 groups:
For Women:
1. Viviscal Extra Strength Supplements
2. Gorgeous Growth Densifying Shampoo
3. Gorgeous Growth Densifying Conditioner
4. Gorgeous Growth Densifying Elixir (Leave-In)
5. Conceal and Densify Volumizing Fibers
For Men:
1. Viviscal Man Dietary Supplements
2. Viviscal Man Full Force Fortifying Shampoo
3. Viviscal Man Conceal and Densify Volumizing Fibers
In our review, the product at the far end of the microscope is Viviscal Extra Strength Supplements (60 mg).
The Viviscal Extra strength supplements is a dietary supplement that is designed to be taken twice daily by women for achieving desirable results for a period of three months and above to observe a noticeable difference. As per the company claims
it is suitable for all adult females, irrespective of the ethnicity or age.

Formula & Ingredients
For vegetarians, Viviscal is not suitable. It is also not suitable for pregnant women and women under 18 years of age. Here is a breakdown of included ingredients:
● Aminomar:
The proprietary marine content constitutes of shark cartilages, oysters and horsetails (stems), and millet seed extracts. Horsetails (Equisetum arvense) are well known for their anti-inflammatory, anti-microbial properties and have been used since ancient times to treat hair fall. Similarly the millet seeds also have similar properties. Concerning the sharks- the company stated they are derived from sustainable resources.

● Iron:
It has been documented that iron deficiency leads to hair loss. (1)

● Zinc:
Zinc deficiency may be indirectly related to severe baldness. (2)

● Vitamin C:
It has been tested and found that Vitamin C helps in hair elongation. (3)

● Biotin:
A water soluble vitamin (Vitamin B7), it is essential in the human body as it helps in conversion of food into energy. However, its deficiency has been well documented to lead to hair loss. It's essential for thicker hair, better skin and stronger nails. (4)

● Calcium:
Calcium is necessary for good growth of hair, nails, teeth and bones. (5)

Since Viviscal is 100% drug free, side effects are rare. It is also gluten-free, though people allergic to gluten sometimes express mild discomfort due to millet seeds. However people allergic to shellfish cannot use this product.

Side effects are rare, but some instances of acne among users have been noted. It couldn't be confirmed whether it was due to Viviscal usage, however.
Product Guarantee
Most other leading products in the hair growth industry use Minoxidil, an FDA approved chemical certified to promote hair growth.
However, Minoxidil is a slow worker. And while it is a lotion to be applied over the hair, it doesn't improve the quality of hair to a noticeable extent.
People have reported that on stopping using growth products based on Minoxidil, their hair growth was halted.
Viviscal Extra Strength, being a dietary supplement, works from within the body system and, combined with their other products have been reported by consumers to provide better results.
As a hair growth supplement, it truly is one of a kind. There have been other supplements like Shen Min (derived from Chinese herbs), Biotin oil, or L-Arginine, but Viviscal has been reported to be the most popular.
product Pricing & Value
A bottle of 60 pills is priced around $40.17. Viviscal is competitively priced to other hair growth products (Rogaine, a Minoxidil solution costs around $39.13, while Pura D'or Shampoo costs around $31.55).
Viviscal also has better customer reviews. Thanks to the Biotin and Horsetail extracts used as ingredients, consumers often rave about great results in the condition of their nails and eyelashes. It seems to be worth the value spent.
Product Effectiveness
The majority of people using Viviscal have reported better hair conditions through the following stages:

A. Nourishment of hair follicles

B. Strengthening of existing hair

C. Increase in overall hair growth

D. Regrowth in halter hair regions

E. Stronger, thicker, and silkier hair

Results will vary from person to person, but in most cases, users state a satisfactory change for the better after around three months of consistent usage.
Customer Satisfaction
People seem to appreciate the online ordering experience. All the products are directly shipped from the US. The purchaser receives two e-mails: one of completion for the order and the initiation of processing. The second e-mail is received at the end of the processing. Shipping generally takes 7-10 business days, as per the company's website. There's also the 'Rush Service' option eligible to the Elite customers in which the shipping is generally done in 2-3 business days.

The products are available at online stores like Amazon. However, the products are not shipped to every corner of the world.
Lifes2Good offers a 90-day money-back return to customers not satisfied with the product. However, the purchase has to be made through their website to claim.
Final Thoughts
No doubt, the Viviscal Extra Growth dietary supplement is a revolutionary new wonder nutraceutic in the domain of anti hair loss and hair growth products.
Raved on about by famous celebrities like Liv Tyler, Reese Witherspoon, and Kate Hudson—to name few—the product is one of the key players in this industry.

It was also one of the highest sold products in its category in Amazon during past recent years. Backed by an extremely high customer satisfaction rating, it is a product that can be easily recommended to women suffering from hair loss.
Citations
http://www.webmd.com/skin-problems-and-treatments/hair-loss/news/20060516/hair-loss-may-be-iron-deficiency#1
https://www.ncbi.nlm.nih.gov/pmc/articles/PMC3746228/
https://www.ncbi.nlm.nih.gov/pubmed/19416266
http://www.medicalnewstoday.com/articles/219718.php
http://www.hairboutique.com/blogs_p/index.php/2011/01/24/how-calcium-helps-hair-growth-prevents-hair-loss-and-enriches-your-houseplants/
---