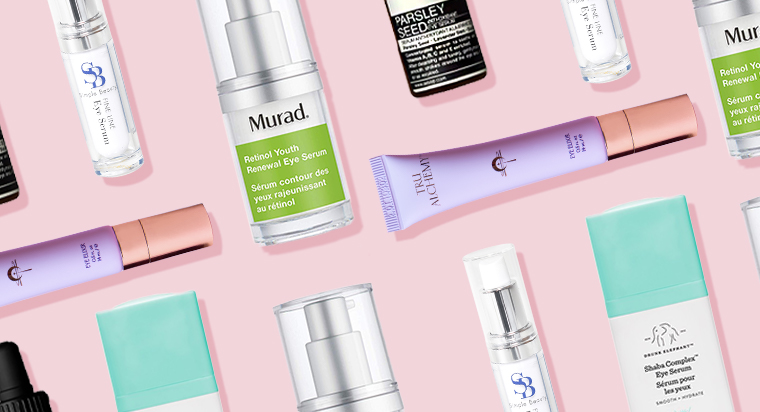 Eye serums play a crucial role in maintaining fresh, youthful-looking eyes. Some might even argue that eye serums are the most important product in your skincare routine.
Because the skin around your eyes is the thinnest on the body—it's also the most susceptible to the visible signs of aging—such as fine lines, wrinkles, puffiness, dark circles, and even saggy skin. That's why it's so important to start using an eye serum or cream, even before deep wrinkles or fine lines appear, to experience fewer signs of aging overall and prevent them from showing up too soon.
Fortunately, advances in skincare science have shown that the skin around your eyes responds much faster to high-quality skincare than any other area on the body. This is why a top-rated eye care product works so well—penetrating deeper to help smooth out the appearance of fine lines, reduce puffiness, restore a youthful glow, and help rebuild a firm look. We'll reveal the two most common solutions and what to look for in an eye care product that actually delivers results.
Eye Cream VS. Eye Serum
At first glance, they may seem more or less the same, but there is an important difference. Eye creams' primary purpose is to moisturize, so they don't always help with dark circles and fine lines.
Eye serum, on the other hand, is more potent and often contains more nutrient-rich ingredients than an eye cream. Serums help smooth out fine lines, reduce puffiness, restore a youthful glow, and help rebuild firmness.
Eye serums will often also have squalane and hyaluronic acid, which are two powerhouse ingredients that penetrate your skin on a deeper level and help deliver the best results.
And for these reasons, we recommend purchasing an eye serum over an eye cream.
A Quality Eye Serum Can:
Reduce the appearance of under-eye bags & puffiness
Support a firm, refreshed look
Visibly improve fine lines & wrinkles
Minimize the appearance of crow's feet & brighten dark circles
Restore a renewed, youthful glow
However, not all eye serums are created equally. And with so many eye serums on the market claiming different things, we wanted to put together this guide to help you sort through the clutter and find an eye serum that delivers on its promises.
Ingredients To Look For
Hyaluronic Acid

Often listed as Sodium Hyaluronate, Hyaluronic Acid is a powerful ingredient that deeply moisturizes and smooths the look of wrinkles around your eyes."
Niacinamide

A potent form of Vitamin B3 that helps soothe and balance your skin's oil production.
Caffeine

Caffeine helps wake up tired eyes by reducing the appearance of dark circles and de-puffing the under-eye area.
Squalane

A skin moisturizer that visibly balances oil production, while locking in enough hydration to keep the skin looking clear, calm, and healthy.
Brightening Antioxidants

Potent antioxidants, like Activated Vitamin C and Ferulic Acid, help diminish the appearance of dark circles, sun spots, fine lines, wrinkles, and UV-damage.
Ingredients to Avoid
Synthetic Dyes or Fragrances

These synthetic ingredients may cause skin irritation, clog pores, cause blemishes, and even deplete your skin of its essential nutrients and oils.
Mineral Oil

A petroleum derivative that may cause breakouts by preventing the skin from absorbing vital nutrients. While this oil does have moisturizing properties, it causes more harm than good over time.
Finding an eye serum with the right ingredients is just the first step. There are some other important factors to consider before actually purchasing an eye serum.
What Else To Consider When Buying Eye Serum
Transparent List Of Ingredients
Many eye serums list only a handful of their key ingredients. Beware of this practice, because that's when the manufacturer can slip in some potentially harmful, synthetic ingredients.
Money-Back Guarantee
Skincare is a multi-billion dollar a year industry, which makes it easy for manufacturers with poor products to slip through the cracks. So make sure to buy an eye serum from a brand that's willing to standby its product with a 100% money-back guarantee.
The 5 Best Eye Serums On The Market
After extensive research, testing, and metrics provided by our Smart Review Ranking System, we've put together this definitive list of the best eye serums available right now. When putting together our rankings, we consider the quality of ingredients, safety, return policies, projected effectiveness, and customer satisfaction.