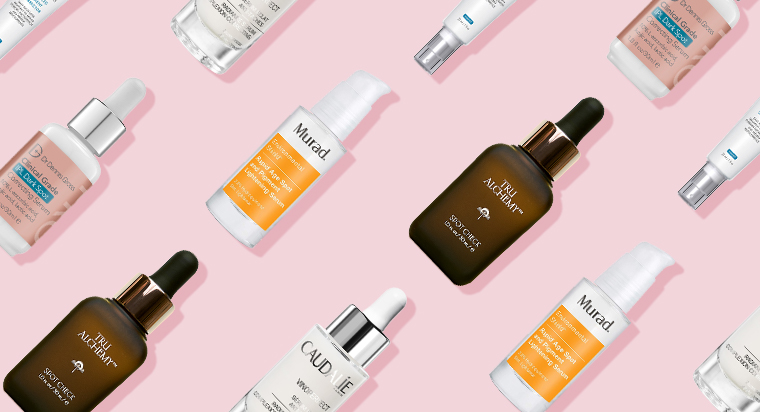 When you head out in the summer sun, your skin is at risk of developing discoloration called hyperpigmentation or sun spots. That's why spot correctors are popping up in stores everywhere—promising to reduce the appearance of UV damage for skin that looks smooth, bright, and even-toned.
"Some of the other treatments that people may use to try to achieve that glowing skin could be really expensive, like lasers or peels," says Dr. Nikki Starr MD. "Whereas with a (spot-correcting) serum, it's really affordable and you can achieve the same results in a safer way," continues Dr. Starr.
However, some retail brands add cheap fillers and additives to their formulas that dilute potency and can even be harmful to your overall skin health. Dr. Nikki Starr MD explains, "Some of the side-effects that I've seen can actually be discoloration, peeling of the skin, redness, dryness, and itching, especially for sensitive skin—and even burning in some formulas that are too strong or not high quality."
To help you make an informed purchase, we reveal what causes dark spots, the top spot corrector ingredients to look for, and how high-quality e-commerce products can deliver maximum results.
A Quality Spot Corrector Can:
Help reveal smooth, healthy, glowing skin
Visibly reduce sun spots & the appearance of UV damage
Minimize the look of dark spots, scarring & discoloration
Aid in brightening & energizing the skin's complexion
Support a visibly balanced, even skin tone
What Causes Dark Spots from the Sun?
Dark spots or sun spots can happen all over your body from a day in the summer sunshine or weeks on vacation sitting under an umbrella. With prolonged sun exposure, our skin releases a pigment called melanin to protect itself from UV rays. Sometimes this results in a glowing tan, but this natural UV response can also often cause excess melanin to pool in key areas of our skin, which can then cause discoloration or dark spots over time. Post-acne marks are also frequently darkened due to overexposure from UV light which can cause this kind of discoloration.
This is why high-quality spot correctors typically contain a combination of active ingredients and antioxidants that work together to exfoliate the skin to maintain smoothness, and help prevent melanin from collecting in concern areas.
Dr. Nikki Starr MD says,"Whenever choosing any of your skincare products, it's so important to read the label. Look for science-proven ingredients that (...) reduce the appearance of sun damage and visibly reduce dark spots."
Top Ingredients To Look For:
Niacinamide

This vitamin not only helps diminish the look of skin pigmentation and dark spots, but also helps maintain a smooth-looking complexion.
Hyaluronic Acid

Often listed as Sodium Hyaluronate, Hyaluronic Acid is a powerful ingredient that soothes dark circles and deeply moisturizes while skin is under repair.
Brightening Acids

A group of skin-smoothing ingredients that gently exfoliate and moisturize for a dewy complexion. Look for a formula that lists some or all of Glycolic acid, Lactic acid, and Phytic acid.
Polyglutamic Acid

An intensely hydrating acid that can hold up to 10,000 times its weight in moisture and works synergistically with hyaluronic acid to visibly smooth and brighten skin.
White Shiitake Mushroom

Nature's answer to hydroquinone, white shiitake is a kojic-acid rich brightener that gently exfoliates to minimize the appearance of discoloration, dark spots, and redness.
A dark spot corrector with these ingredients will go a long way to help your complexion, but there are other things to consider before making a purchase:
What to Avoid
Disreputable Companies

Look for a spot corrector from a reputable seller with positive reviews. If you're unable to find this information, you should proceed with caution.
Hydroquinone & Mercury

These synthetic ingredients can cause unwanted results. In fact, hydroquinone is banned in every country except the U.S. because prolonged use can result in significant skin discoloration.
Hidden Guarantees

Avoid companies that hide details in their return policy's terms and conditions. They can make it difficult to get your money back, if at all.
Overnight Results

Be on the lookout for dark spot correctors that promise fast results. Real skin enhancement takes time.
Your Definitive Dark Spot Corrector Checklist:
Research Retail Brands

Although many drugstore products seem to list well-known ingredients on their labels, they often cut corners and use poor-quality ingredients to keep operating costs as low as possible for mass production. Furthermore, it's difficult to determine how long a product has been sitting on a retail shelf—or how long its potency will last.
The E-Commerce Advantage

Many successful e-commerce beauty brands have inherently lower overhead costs, which gives them the ability to invest more in creating superior skincare formulas. Therefore, by selling directly to you, online beauty brands are often able to offer higher quality products at a more affordable cost.
Money-Back Guarantee

Americans spend millions of dollars every year for youthful skin, and they still find themselves unhappy with an apparent lack of results. It's better—and safer—to invest in a product that offers a 100% money-back, no-questions-asked guarantee. This shows the company's faith in the potency of its product and the results you will experience.
Here's who made the cut...
After closely analyzing almost 70 different dark spot correctors and over 10,000 user reviews, we unfortunately only found 5 dark spot correctors that met our requirements. There were a surprisingly high number of ineffective products with either sub-standard ingredients or confusing money-back guarantees. Quality dark spot correctors aren't easy to find, and out of 67 products that we reviewed, only 5 of them carry our recommendation.
Top 5 spot correctors of 2021
Click to see the list of spot correctors we evaluated >>
SkinCeuticals Discoloration Defense
SkinMedica 3-piece System
Dr. Dennis Gross Skincare Alpha Beta
Sunday Riley C.E.O. Brightening Serum
Obagi Nu-Derm Clear Fx
PFB Vanish + Chromabright
PCA Skin Pigment Gel
Glytone Enhance Brightening Complex
Dermalogica Rapid Reveal Peel

Allies of Skin Vitamin C Serum

REN Clean Skincare Daily AHA Tonic
iS Clinical White Lightening Serum
Eminence Organic Bright Skin Serum
La Roche-Posay Active C Eyes
Colorescience Even Up Pigment Perfector
Murad Age Spot Serum
Nia 24 Age Recovery
Supergoop! Daily Correct CC Cream
Vivant Skin Care 15% Mandelic Acid
Peter Thomas Roth Wrinkle Resist Serum
Juice Beauty Stem Cellular Cream
HydroPeptide Face Lift Advanced
Epinonce Pigment Perfecting Serum
Verso Super Facial Serum
DCL Aha Resurfacing Lotion
AGENT NATEUR Youth Serum
Korres Wile Rose Vitamin C Sleeping Facial
NeoStrata Tri-Therapy Serum
Jan Marini C-ESTA Gel
Radical Skincare Anti-Aging Moisture
FUR Silk Scrub
Lancer Skincare Caviar Lime Acid Peel
Guinot Creme Age Summum
DERMAFLASH Replenishment Kit
GLOWBIOTICS Probiotic Brightening Lotion
Perricone MD Cold Plasma+
Alpha Skincare Skin Lightener
Natura Bisse Neck Cream
100% Pure Dark Spot Remover
VI Derm Vitamin C Gel
Verso Dark Spot Fix
Replenix Pigment Correcting Cream
Erno Laszlo Eye Serum Mask
Revaleskin Eye Serum
Ursa Major Vitamin C Serum
BeautyRx Skincare Vitamin C Serum
Trophy Skin
Glo Skin Beauty Lightening Serum
The Organic Pharmacy Face Serum
Sanitas Skincare Citrus Cleanser
TULA Skincare Skin Rescue
Luzern Laboratories Creme Intensive
Colbert MD Stimulate Serum
VivierSkin GrenzCine Serum
NeoCutis Skin Brightening Cream
First Aid Beauty Resurfacing Liquid
Exuviance AF Vitamin C 20%
Thank You Farmer Sun Project
Phytomer Sorbet Cream
Derma e Toner
111SKIN Anti Blemish Booster
BY TERRY Touche Veloutee
Olga Lorencin Skin Care Detox Facial
EVE LOM TIME RETREAT
GlamGlow Exfoliating Acid Solution
COSRX Low pH BHA Mask
CosMedix Cell ID