---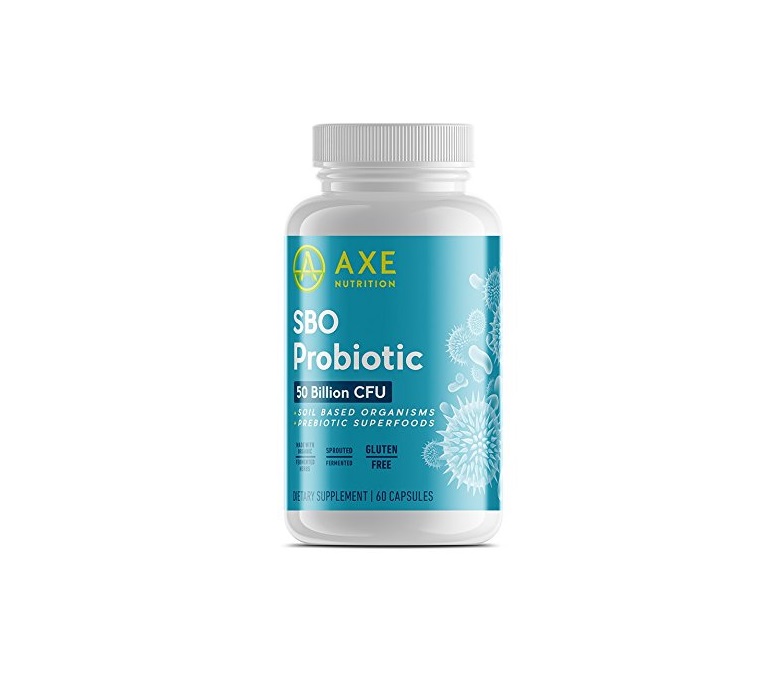 Probiotic supplements have swept the market in recent years, and there is a reason behind it. Numerous scientific studies over the last decade or so have proved the beneficial effects of probiotic supplementation.1 Your body is a host to various bacteria and microorganisms, and these microbes live in a symbiotic relationship.
In other words, these bacteria help your body to function properly in return for a place to thrive. Among the billions of bacteria living in your gut, some are 'good' while some others are 'bad.' It is crucial that your body has enough of a number of the good microbes so that it functions properly and prevents the proliferation of the bad bacteria. Probiotics can supplement your body with these good bacteria and help restore the balance you need to be optimally healthy.2

With literally hundreds of probiotic supplements in the market, it can get confusing trying to select the one that is best for you. One such relatively popular supplement is SBO Probiotic Supplement by Axe Nutrition. Consumers seem to have a lot of good things to say about this supplement. Well, we decided to put this product to test and see whether it lives up to the hype.
In this detailed review, we will discuss various aspects of the supplement and see whether SBO Probiotic Supplement by Axe Nutrition is worth your time or money.

Formula & Ingredients
The SBO Probiotic Supplement by Axe Nutrition is one of very few decent probiotic supplements on the market that contain Soil-Based Organisms (SBOs). The SBOs are microbes that live and thrive in the soil, as their name suggests, and nourish plants.3
They find their way into the human gut when we eat plants and vegetables. As processed food has become the mainstay of the human diet, our microbiome is depleting in these microbes. SBO containing probiotic supplements such as SBO Probiotic Supplement help replenish these helpful bacteria to the gut.

The SBO Probiotic Supplement contains a combination of six SBOs that have been proven to provide benefit to the digestive and immune system.4 The strains used in the supplement include Lactobacillus Plantarum, Lactobacillus paracasei, Bacillus subtilis, Bacillus coagulans, and Saccharomyces boulardii. A combination of these strains is supposed to have a synergistic effect.

It is also crucial that the bacteria in the supplements are viable so that they can colonize the gut. The viability of the probiotics is measured in Colony Forming Units or CFUs. The higher the CFU number, the better. The SBO Probiotic Supplement by Axe Nutrition contains a total of 50 billion CFUs of the SBOs. Although the CFUs of individual strains is not mentioned in the product literature or the website, they claim that there are at least 5 billion CFUs of each strain.
This serving size is large enough for the organisms to reach the targeted areas of the gut and colonize. Another unique feature of the SBO Probiotic Supplement by Axe Nutrition is their proprietary 'fermented organic botanical blend,' which is present in each capsule.
The blend consists of some of the best super nutrients such as extracts from sprouted chia seeds, sprouted canihua seeds, Astragalus root, Ashwagandha root, flax seeds and pumpkin seeds. The capsule also contains the super antioxidant food turmeric and ginger root.

The combination of the probiotic strains and the fermented organic botanical blend makes this product unique. As the supplement contains SBOs, it has an excellent shelf life. There is no need for refrigeration, and the product is stable for years without any loss of potency.

There is no added color or chemical stabilizers and fillers, which is a great thing. The capsules are gluten and dairy-free that makes them perfect for people with allergies.

The supplement is available as a soft-shell capsule that is easy to swallow. The recommended serving size is two capsules a day with 8 ounces of water or juice.

One caveat with this supplement is the fact that there is no independent clinical study data to verify the claims. It, in no way, means that the product is inefficient. It just means that there is a lack of independent peer-reviewed study on the product.
brand Guarantee
Dr. Axe has a decent reputation in the probiotic and supplement industry. The capsules come with a 100% money-back guarantee for 60 days from the date of purchase. If you are not happy with the product, you can return the supplement for a full refund, though we're not sure what hoops you'll have to jump through to achieve it.

The supplement is available on the website of the parent company at draxe.com. The supplement is also available through Amazon.com.
product Pricing & Value
One huge issue is that the SBO Probiotic Supplement by Axe Nutrition is one of the more expensive probiotic supplements on the market.

A 30-day supply will set you back by about $40. At over a dollar every day, price point lands squarely in the premium range,where most will struggle to afford it.
Product Effectiveness
The effectiveness of probiotic supplements can be difficult to assess. However, many satisfied customers indicate that SBO Probiotic Supplement by Axe Nutrition seems to be efficient and beneficial for most. Customers seem to have positive experiences with the supplements, and a lot of them even return to re-buy.
There are no reports of any particularly significant adverse reactions, and that is a plus. Most people seem to experience benefits within a couple of months of regular usage, which is actually slow compared to industry standards.
If you achieve an improvement in digestive health and decrease in problems with digestion, you should expect it within a couple of months of starting this regimen.
Customer Satisfaction
SBO Probiotic Supplement by Axe Nutrition is a well-received supplement on the product website but the reviews on Amazon are frighteningly sparse. Satisfied customers claim to see a marked improvement in their digestion and gut health.

However, some customers have complained of mild adverse effects ranging from bloating to diarrhea. Although the number of positive reviews far exceed the complaints, this is still a concern worth noting in our analysis of the product.
Final conclusion
Probiotics can undoubtedly improve your health and well-being. The SBO Probiotic Supplement by Axe Nutrition seems to be a decent supplement that has the advantage of multiple strains as well as Prebiotic mix. However, there is still concern over its price point, and length of time in achieving any effectiveness.

Still, many customers vouch for the effectiveness of the product as. The company is well respected in the industry and provides a money back guarantee. So that's good.
Citations
http://www.advances.umed.wroc.pl/pdf/2013/22/5/759.pdf
https://www.ncbi.nlm.nih.gov/pmc/articles/PMC3298082/?_escaped_fragment_=po=6.48148
https://www.sciencedaily.com/releases/2010/05/100520141214.htm
---