---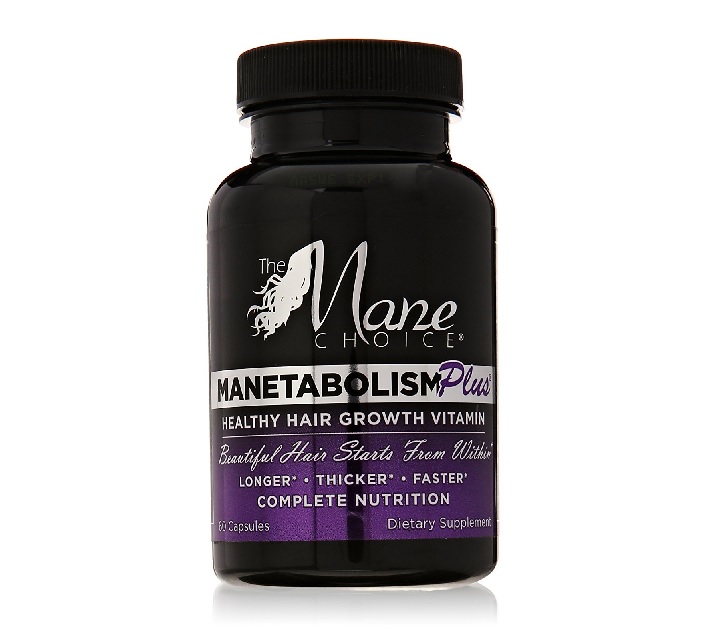 Does your hair lack the glaze inspite of using the best of conditioners? Does your hair have split ends all over? Or, does your hairfall frustrate you about why gravity exists?!

Fret not. The Mane Choice brings you the complete dietary supplement for your hair – Manetabolism Plus Vitamins!

Manetabolism Plus is a dietary supplement which can be taken daily. It is "physician-formulated", thus helping to grow hair on the scalp and make it longer, thicker and healthier. This perfect blend helps in a healthy growth of hair and helps in retention of vitamins as well. This is an all-in-one potion that can also be taken as a multi-vitamin punch for maintaining healthy body.

Not only hair, Manetabolism Plus promotes a healthy growth of nails and skins as well as they directly target nail beds and skin layers and supply complete nourishment to the body.

This hair elixir is unique as it gives you the ability to re-grow hair follicles unlike other chemical oriented tonics which damage your scalp.

Manetabolism Plus is a potion which nourishes the hair follicle while preventing hair loss and helps in a faster hair growth as well. Thus, the hair grows longer and thicker in a faster yet healthier way. With Manetabolism Plus, your scalp rejuvenates dead, inactive and slow glowing follicles. Not only that, this tonic contains essential antioxidants which help in improving the immune system naturally.

Not everyone can carry baldness off in style like Dwayne Johnson or a Jason Statham. Be the Bradley Cooper, and conquer the world!

Not yet convinced? Read on.

Formula & Ingredients
Manetabolism Plus Vitamins have a varied set of ingredient perfectly blended for your complete nourishment.
It contains Vitamin A which is an antioxidant that helps you to have a healthy skin, hair and nails, and further helps in producing sebum which helps you to get better shine and a thicker hair.
It contains Vitamin C which helps to build collagen, a protein that helps hair growth. It is also is the best source for enhancing immunity, along with Vitamins D3.
Vitamin B6 stimulates hair growth, especially in people who suffer from hair loss or thinning. A deficiency of this causes hairloss.
Vitamin B12 boosts energy and nourishes scalp and heals the scalp thus promoting hair growth.
Among the other ingredients, it contains folic acid which is an essential vitamin responsible for the overall health of hair. This helps in extending the longevity and improves hair quality. It also prevents premature greying.
B-complex vitamin, biotin, prevents hair loss and premature greying. It is responsible for keeping the hair's cortex elastic while keeping the cuticles thick to prevent split ends. It also reduces an itchy or dry scalp which is at times mistaken for dandruff.
It contains zinc which is essential for healthy hair. It helps the body to keep a healthy hair as well as its growth. It also helps in utilizing protein and promotes faster hair growth as well.
A whole of herbs and other essential requirements for your hair like Vitamins B2, K1, B9, B5, magnesium, grape seeds extract, valine, and many more are present as well.
Product Guarantee
The Mane Choice is committed to give the customers a 100% satisfaction. If you are not fully satisfied with your purchase, you could always get in touch with them and they will try their best to find a resolution.
However, all sales are final and are not subject to return. Only in case of an incorrect or damaged item, the product can be replaced by sending an email within 5 days of purchase.
For all your queries, you can contact The Mane Choice at the above email. There is also an option for live chat on the website.
product Pricing & Value
The Mane Choice sells the Manetabolism Plus Vitamins at a monthly supply pack of 30 capsules at only $25.99. The price reduces as the quantity rises. A 12 month pack costs only $285.99.
Manetabolism Plus contains a perfect blend of all essential vitamins as well as other necessary herbs and nutrient which are required for longer, stronger, thicker and healthier hair. Thus, in comparison to the selling price, The Mane Choice has certainly kept it quite reasonable.
This product being a daily supplement is perfect replacement of all the visits to the market, the pain to make the paste or potion, as well as the time, to apply and wait. This product is a simple – pop and forget capsule, which is easy and healthy. Thus, the price makes this product quite affordable.
Product Effectiveness
Most customers have experienced a change in their 'hairy-fortune' in as little as 45 days. From what can be called a deserted head, customers have experience a growth as much as 2 inches in 2 months!
They have been so thrilled that with the product that several customer have already ordered multiple times. Several testimonials present on the website proves the effectiveness of this 'panacea'tic hair potion.
Other customers have also reported a reduction is hair fall as well less split ends, few mentioning that their nails too got stronger and healthier.
Customer Satisfaction
The customers have been satisfied to such an extent that they are now using it daily since the last 4-5 months. Not only did the hair become stronger, longer, thicker as well as healthier, the nails too improved their texture.
So far, not a single comment came against the product which tells a very good story of how good the product has been to the customer as we all know; a good product isn't appreciated as much as a bad product subjected to criticisms.
Final Thoughts
This goes out to all those people who have had a harrowing time trying to fix their hair with innumerable false-claiming conditioners and toners.
Buy a pack of Manebolism Plus Vitamins and see the difference without any side effects. Manetabolism Plus Vitamins keeps you fresh, with more immunity and of course, with nutrition enough to grow hair and bring a yak to shame!
Come and relive your moments with the new 'bundle of joy'ous hair, with your new found secret – Manetabolism Plus!
---