---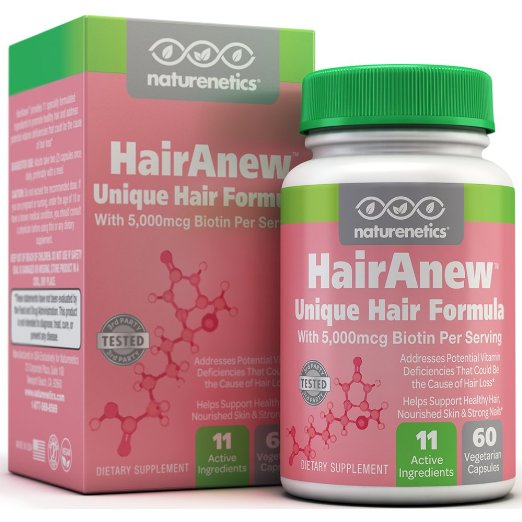 Stressing about hair loss seems counter productive doesn't it?
Stress levels, your environment, nutrition, and genetics play a major role in hair quality and let's face it, quantity too!
That's why there so many products out there telling us to apply this, drink that, all while promising us long, luscious locks. But what's the science behind it all?
If you are worried about hair loss and hair quality, and are looking for a quality supplement that isn't chock full of unnecessary chemicals, we might have just the vitamins for you--- HairAnew Unique Hair Formula.
HairAnew helps keep your hair nourished and strong. And it doesn't just stop at your follicles - this product will also attempt to brighten up your skin and strengthen nails too by employing the power of all-natural ingredients. It offers the nutrients necessary for our body to grow healthy hair and nails.

Formula & Ingredients
The ingredients include vitamins and nutrients like Vitamins C, E, B-complex, Niacin, Biotin, Zinc, Kelp, Ginkgo biloba (leaf), Bamboo extract and Inositol.
Every ingredient mentioned is present in exactly the same quantity as labeled, and it is tested through High-performance liquid chromatography testing. Every nutrient has a purpose of its own. Because its formulation does not include wheat, gluten, egg, soybeans, fish, peanuts, nuts, and shellfish, it can be really helpful to those who have allergies.
You have as many as 11 unique ingredients here, containing everything from hair vitamins, minerals, amino acids to herbs, and trace elements. Its formulation is entirely made up of vegetarian items so anyone can use it.
Its formulation (2 capsules) includes Biotin at 5000 mcg per capsule. Biotin promotes healthy cell growth in our body. You don't just have better-looking hair but more beautiful skin and stronger bones.
The entire formula is wrapped up in a vegetarian capsule. It is gluten free, vegan and never tested on animals which appeals to a much bigger demographic.
The product is free from toxins and pathogens. You have an expiration duration of 2 years and each bottle comes with 60 capsules that will last 30 days, if taken as directed.
This product is also made in the USA and is clinically tested.
Brand Guarantee
All things considered, the brand offers a strong guarantee. If you don't feel any sort of change in yourself or notice results, they offer a 100% money-back guarantee.
So if a company offers such kind of guarantee, it must have faith in its product. It is a product of Naturenetics and you can reach out to their customer care any time.
product Pricing & Value
HairAnew is not a well-known brand to the giants of the hair industry, but undoubtedly in the coming years, it will be one the most trusted brands with its outstanding performance.
It is a biotin based product, but it also has 10 other ingredients to help you grow your hair effectively. It gives you a healthier and more vibrant hair quality at a price which is really lucrative. It just charges the amount for the nutrients which are put in the product.
Other brands have a much higher price than HairAnew but the results are more effective in the case of HairAnew. The price in which HairAnew is available is quite reasonable with respect to the quality of ingredients it uses.
It has undergone the certificate of analysis which means the ingredients which are mentioned are exactly present in the capsules in the same specific amount.
Product Effectiveness
Most customer reviews have been positive. Some claim that they have started observing the change in as little as 2 days of using it, which is remarkable.
While there are several vitamin capsules available in the market, unfortunately, users often have to go through some or the other allergies - not with HairAnew. Users have not reported any allergies from using the product till date, which is quite appreciable.
The other fact that we loved is that it works for people around all corners of the world. With customers from everywhere in the world, the product benefits you in different ways. If it doesn't help you with your hairs (very rare possibility), it will surely nourish your skin or strengthen your nails and bones.
Customer Satisfaction
Over-all customers have given this hair vitamin neutral to moderate ratings consistently. This concludes that some to most customers didn't have favorable results, if any.
Those who did see a change were extremely content with the vitamins as they are a more natural alternative to other hair growth products.
Final Thoughts
Everyone wants to be attractive and losing your hair at an early age can be the cause of a lot of self esteem. If you are facing a similar kind of issue, try it out.
Don't panic and do random things to make hair fall stop - like going in for surgeries, oils, wearing extensions. Do it the natural way with HairAnew - something whose effects are not just for the short term.
The product also helps you be more energetic being rich in nutrients and herbs. A word of caution though - don't use it more than the recommended dosage or it could lead to skin rashes.
Overall, the product has received ample positive testimonials, and there is no reason to be afraid of investing in HairAnew. It's good value for money, and the reasonable pricing ensures you can definitely try it out at first to see if it's for you.
---