Smarter Review: Best Retinol Awards 2017
We're Here to Help You Put on Your (Vitamin) A Game
At Smarter Reviews, we employ a comprehensive evaluation system to analyze and measure the full value of products, by looking at the ingredients, safety, projected effectiveness, return policies, and overall customer satisfaction. This method is known as the Smarter Reviews Ranking System.
In addition to ranking products, we also collect research from the latest studies and clinical trials. Choosing the best product is easy with Smarter Reviews. We offer a clear-cut system that covers the most important criteria, and takes into account the experienced personal reviews of our valued Smarter Shoppers. We've taken the guesswork out of the process, so you can shop smart, and save on time and money.
Retinol 101: What Makes Retinol So Special?
Nonprescription age-defying products in America is a $600 million a year industry.2 That number grows every year. Why, exactly, are we so driven to try to cream away the appearance of our creases and age lines?
There are certain products in the cosmetic world that promise to make us feel good about birthdays again, or at least be able to fib the number of candles successfully. Topical retinol and products containing retinoic acid are some of those products.
Retinol may be able to help skin cells look younger. When retinol is applied to the skin it is broken down into retinoic acid, which is the actual compound that can help skin cells appear younger and healthier. 1,3
What is Retinol Really?
Finding a quality skin care product seems as impossible as finding the fountain of youth itself. There are four types of retinol that are often mentioned: Retinoids, retinoic acid, retinyl palmitate, and retinol. Through a combination of comprehensive research and the help of our Smarter Shoppers' reviews, we pinpointed some important facts by breaking down each type to find the best.
Retinoids are only available with prescriptions because they have a higher potency than over-the-counter retinols and retinoic acid. The generic name is Tretinoin and the popular brand name is Retin-A. Retinoids may be more effective but may have many side effects, and can irritate and even damage the skin if used incorrectly.*

Retinoic acid is available without a prescription and is basically an aggressive form of vitamin A.* Even though a prescription is not needed, Retinoic acid may be potentially dangerous and can cause the same side effects as prescription retinoids.*

Retinyl Palmitate is also vitamin A but a "watered down" version of retinol, which is why many companies use it in their retinol creams. It can be effective in high doses but usually is one of the last ingredients in the formula. Its side effects are currently being studied as many researchers are claiming that it could be a mutagenic chemical. Potentially cancer-causing ingredients are not something we want to experiment with.*

Retinol is also available without a prescription and is much more balanced in its aggressive nature. It still has effective age-softening properties with all the antioxidants of vitamin A, which is the best vitamin to use on the face.*
Many companies include both Retinol and Retinyl Palmitate or just Retinyl Palmitate in their formulas. Through research and reviewers like you, we found a formula that has the right dose of retinol, along with some important key ingredients that we will discover below.
TOP 3 MYTHS ABOUT RETINOLS:
MYTH:

Retinol creams are only for your face.

FACT:

Retinol creams can and should be used on any areas where signs of aging are visible. The skin on the face, hands, neck, chest, and forearms are subject to wearing out over time.

2*

MYTH:

An effective retinol should start working and showing results right away.

FACT:

Your skin didn't age overnight, so give retinol some time to work. With regular use, you may find that you'll be looking better soon enough.

1,2*

MYTH:

You will sunburn more easily by using a retinol cream.

FACT:

Most retinol are advertised as night creams because they breakdown in sunlight. Nighttime use of retinoids make them much more effective and usually show better results. However, there is no evidence that says your skin is more susceptible to a sunburn if retinoids are used in the day. In fact, the new generation of retinoids are perfectly fine to use during the day.

1,2*
What you should look for in a great retinol product:
4,5*
Retinol (Vitamin A) needs to be one of the top ingredients in a product's list. The added ingredients and compounds work to make the formula more effective. These ingredients below have been evidenced in clinical studies to reduce the appearance of aging signs, and work hand-in-hand with retinol's properties.
Hyaluronic Acid - This molecule is naturally found in our skin. When added to topical creams it works to retain moisture and can be excellent for hydrating and firming up the appearance of the skin.*
Vitamin C - Like Retinol, Vitamin C works to diminish the appearance of fine lines and wrinkles.
SPF - This is especially important for daytime retinol creams. An SPF of 30 is most beneficial in preserving the epidermis during daytime use.
CoQ10 - This vital cell nutrient is naturally made by our bodies but declines with age. Studies have shown it can help reduce the appearance of fine lines and wrinkles when added to topical treatments.*
Green Tea Extract - A natural ingredient that soothes the skin and provides antioxidants.*
5 Ingredients You Should TRY TO Avoid:
5*
Avoid these unnecessary fillers and chemicals at all costs when choosing the right cream. The ingredients below do nothing healthful for your skin and may harm both you and/or the environment.
Parabens - Ingredients like methylparaben and propylparaben are questionable cosmetic preservatives. They have often been involved in studies of cancer-causing compounds.*
Artificial Color - Studies have linked synthetic dyes found in cosmetics to cancer-causing increases of overall toxicity in the body.*
Fragrance - This is a loaded ingredient, literally. This one ingredient can be composed of over 200+ different chemicals. In general, it is classified as a sensory and skin irritant.
Propylene Glycol - Usually created by a mix of synthetic chemicals, this ingredient is used to keep things creamy. It is classified as a skin irritant and allergen.*
Triethanolamine - This ingredient is used to balance the PH of a formula. Unfortunately it is an allergen and studies have shown that it is toxic to the body if used long enough.*
Other poorly graded ingredients to look out for:
5*
Diazolidinyl Urea - A chemical preservative that was named the primary cause of dermatitis by the American Academy of Dermatology.
Methylisothiazolinone - Named "Allergen of the Year" in 2013 by the American Contact Dermatitis Society.
Arachidonic Acid - Studies have shown this ingredient to be a cancer-causing mutagen.* Avoid this ingredient at all costs.
Phenoxyethanol - A chemical preservative that is currently being studied further for toxicity.
How to Get the Best Out of Retinol
3,4*
Take a look at our helpful checklist below. We've compiled the most important aspects of a quality age-defying cream and how to use them effectively. Even though retinol is a skin superstar there are some ingredients that it loves working with. This will give you enough knowledge to make the best possible choice when shopping around for a retinol treatment.
We recommend that anyone new to retinol find a product or company that offers a trial offer or money-back guarantee. At first, mild-to-moderate irritation and redness is completely normal as your skin is adjusting to the formula. Reactions may include peeling, redness, and/or itching. Some skin may ultimately be too sensitive for this ingredient, especially with prolonged use. As always, talk to a dermatologist before starting a new skin regimen.
Immediately discontinue use and contact your doctor if any non-superficial adverse reactions occur.*

Retinol should be one of the first ingredients. Read the label and make sure the cream contains retinol (not retinyl palmitate) and is in the top ten ingredients. If it's beyond the tenth ingredient it is likely a weaker formula, or is one that may contain a lot of fillers.
Comes in an airtight, opaque jar, container, or tube. Think of light and air as being retinol kryptonite. Make sure whatever the cream is packaged in is not clear (you shouldn't actually see the product through the packaging), and has a lid or cap that can completely seal closed.
Use retinol every other day. This is especially important for first-time users. Your skin will react to this ingredient but don't be discouraged just yet. Listen to your skin and use retinol less frequently as your skin adjusts. Of course, if irritation does not subside or gets worse, cease use of retinol and consult with your doctor.
Mix it in with moisturizer. Combining a topical retinol cream with your daily moisturizer is a great method to introduce retinol to your skin.* It helps the process of gradually easing into using retinol on its own.
Apply retinol at night. For us, this is pure convenience and one less product to apply on our face in the morning. Although, a quality retinol cream can be worn in the morning under sunscreen or makeup that has SPF. However, we found that letting the "magic" happen while you sleep minimizes breakdown of the product as much as possible.*
Establish a skin care system. Good skin takes time and effort just like everything else. Adding retinol can help you get the skin that you desire.* We found that alpha-hydroxy acid (AHA) is retinol's soulmate. While using a retinol cream, make sure to continue the daily use of a cleanser, toner, moisturizer, and serum. Add an AHA exfoliant one to two times a week for a helpful boost toward skin renewal. A regimen like this will help improve your skin's tolerance of retinol.
Use retinol now. A lot of emphasis is placed on reducing the appearance of fine lines and wrinkles but what about preventing them? Anyone over the age of 25 is a prime candidate to start taking preventative measures to help maintain healthy and smooth-looking skin. Retinol is on the forefront of this skin-assisting practice.
Top 4 Retinol Creams On the Market today
Based on our own extensive research, the metrics provided by our Smarter Reviews Ranking System, and consideration of numerous reviews by Smarter Shoppers just like you, we've compiled a list of what we've found to be the top four products in
this category, on the market today.
1. Pura Bella retinol cream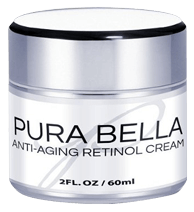 Total Ranking
314 votes
9.2/10
Ingredient Safety

8.4 Avg.

9.4/10

Projected Effectiveness

8.6 Avg.

9.1/10

Value

8.5 Avg.

9.2/10

Return Policy

8.2 Avg.

9.4/10

Customer Satisfaction

7.9 Avg.

9.1/10

Vote and Review
PROS
Moisturizes and feels lightweight on the skin*
Free trial offer
CONS
Could not find key or active ingredient list online or on their website
Had no positive effect for many Smarter Shoppers*
The Bottom Line
Smarter Shoppers reported that this formula was excellent at moisturizing and very lightweight, but did not contain enough of the key anti-aging ingredients they were looking for.* The free trial gave Smarter Shoppers a chance to try the product. Some users' skin loved this formula and others did not. Overall, the offer is a fantastic one.
*Results are based on the Smarter Reviews Ranking System and do not necessarily reflect typical results from the use of these products. Please visit product websites for more information.
I Want the Smarter Choice
2. Puritan's Pride retinol cream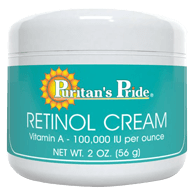 Total Ranking
849 votes
8.7/10
Ingredient Safety

8.4 Avg.

8.8/10

Projected Effectiveness

8.6 Avg.

9.3/10

Value

8.5 Avg.

9.1/10

Return Policy

8.2 Avg.

8.4/10

Customer Satisfaction

7.9 Avg.

8.1/10

Vote and Review
PROS
Delivers 100,000 IU of Vitamin A per ounce
CONS
Contains 5 out 5 of the toxic ingredients listed in Smarter Reviews Retinol 101
Does not contain retinol
The Bottom Line
Many Smarter Shoppers reported that this cream was moisturizing but offered very little in anti-aging properties.* Others reported an increase in later breakouts.* Because the formula does not contain retinol, mixing this cream with another moisturizer that had SPF or a sunblock further diminished any effects that the quantity of vitamin A could potentially have had.*
*Results are based on the Smarter Reviews Ranking System and do not necessarily reflect typical results from the use of these products. Please visit product websites for more information.
Learn More
3. StriVectin-AR Advanced Retinol Day Treatment SPF 30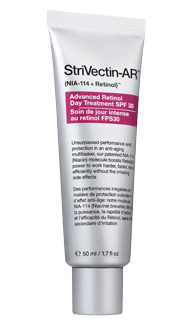 Total Ranking
492 votes
8.0/10
Ingredient Safety

8.4 Avg.

7.3/10

Projected Effectiveness

8.6 Avg.

8.6/10

Value

8.5 Avg.

8.1/10

Return Policy

8.2 Avg.

7.5/10

Customer Satisfaction

7.9 Avg.

8.4/10

Vote and Review
PROS
CONS
Tested on animals
Contains skin-irritating fragrances: Citronellol, Eugenol, Geraniol, and Linalool.*
The Bottom Line
According to our Smarter Shoppers, this product's most impressive feature is its broad-spectrum protection from UVA and UVB rays. However, the testing of the product on animals, and the plethora of skin-irritating fragrances made this product very questionable, and ultimately a very middle-of-the-road purchasing option for our Smarter Shoppers.
*Results are based on the Smarter Reviews Ranking System and do not necessarily reflect typical results from the use of these products. Please visit product websites for more information.
Learn More
4. SkinCeuticals Retinol 1.0 Maximum Strength Refining Night Cream, 1 oz. Tube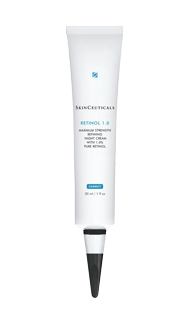 Total Ranking
132 votes
7.4/10
Ingredient Safety

8.4 Avg.

8/10

Projected Effectiveness

8.6 Avg.

7.6/10

Value

8.5 Avg.

7.8/10

Return Policy

8.2 Avg.

7.5/10

Customer Satisfaction

7.9 Avg.

6.2/10

Vote and Review
PROS
Contains 1% of pure retinol
CONS
Retinol is the only ingredient in this formulation that is researched for age-defying effects*
This formula was reported to be too pungent for many reviewers*
Tested on animals
Contain skin irritants and allergens, such as Methylisothiazolinone*
The Bottom Line
Experiences for our Smarter Shoppers were sharply divided regarding this product. Half of all users felt this product was pleasant to use and the other half found it irritated their skin greatly.* Effectiveness was surprisingly minor in both instances as some couldn't use it long enough to see a difference, and others saw little-to-no difference in the quality of their skin at all.*
*Results are based on the Smarter Reviews Ranking System and do not necessarily reflect typical results from the use of these products. Please visit product websites for more information.
Learn More
Citations
Kafi R, Kwak HS, Schumacher WE, Cho S, Hanft VN, Hamilton TA, King AL, Neal JD, Varani J, Fisher GJ, Voorhees JJ, Kang S. National Center for Biotechnology Information. U.S. National Library of Medicine, 1 May 2007.
WebMD originally published in Marie Claire Magazine. WebMD, Nov. 2009.
Howard, Dr. Diana. The International Dermal Institute. dermalinstitute.com, 16 Sept. 2015.
Gazella, Katie. UMHS Press Release: Retinol Reduces Fine Wrinkles Caused by Natural Aging. May 2007.
Hampton, Aubrey. Web.