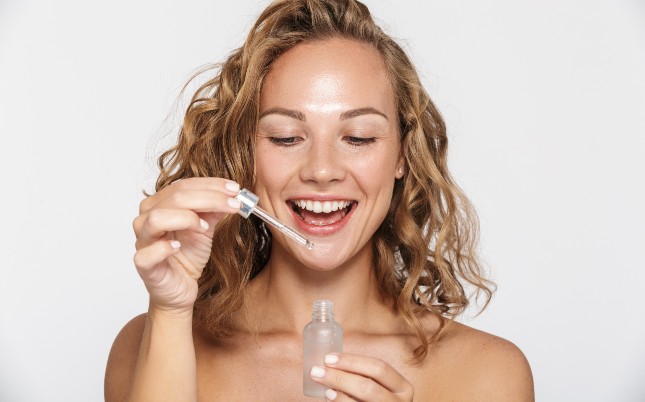 Everyone knows that Vitamin C is an essential nutrient for overall health, but some people are unaware of just how potent Vitamin C is as a topical skincare ingredient. Given its acidic nature and powerful antioxidant properties, Vitamin C has been shown to effectively promote the appearance of healthy, youthful-looking skin.
While moisturizers and creams target the surface layers of the skin, serums penetrate deeper to reveal a glowing, youthful look. That's why many topical Vitamin C products come in the form of a serum and are a must-have if you're looking to brighten dark spots, promote even-toned skin, and reduce the appearance of wrinkles.
But with so many Vitamin C serums on the market claiming different things, we wanted to put together this guide to help you sort through the clutter and find a Vitamin C serum that delivers on its promises.
A Quality Vitamin C Serum Can:
Soothe sensitive skin allowing for a smooth & even complexion
Support skin elasticity, brightness, & hydration
Reduce the look of UV-induced damage
Diminish visible signs of aging like wrinkles and fine lines
High-quality serums also include ingredients that work synergistically with Vitamin C to help your skin appear brighter, younger-looking, and even-toned. Here's what to look for in an effective Vitamin C serum:
Key Ingredients in a Vitamin C Serum
Activated Vitamin C
Activated Vitamin C is a specialized form that is 50x more powerful than traditional Vitamin C, penetrating deeper into the skin with greater potency and more visible results.
Bakuchiol
Bakuchiol is a plant extract that provides some of the same skin-nourishing benefits as retinol without the peeling, flaking, or irritation. It has antioxidant properties that work together with Vitamin C to soothe and brighten skin.
Brightening Acids
A group of skin-smoothing ingredients that gently exfoliate and moisturize, for a dewy complexion. Look for a formula that lists some or all of Glycolic acid, Lactic acid, and Phytic acid.
Niacinamide
A potent form of Vitamin B3 that helps soothe and balance your skin's oil production.
Green Tea Extract
Another powerful antioxidant that works in tandem with Vitamin C is Green Tea Extract, often listed as Camellia Sinensis. It helps nourish cells deep below the surface of the skin, diminishing the visible signs of aging.
Ingredients To Avoid
Petroleum
A toxic carcinogen that studies have found can block the skin from absorbing moisture and other important vitamins and minerals. Unfortunately, petroleum is present in many skincare products, so be sure to pay close attention to labels.
Sulfates
A synthetic ingredient that can irritate your skin, clog pores, and in some cases, cause acne. They can also strip your skin of important nutrients and oils.
Finding a Vitamin C serum with the right ingredients is just the first step. There are some other important factors to consider before actually purchasing a Vitamin C serum.
What Else to Consider in a Vitamin C Serum
Transparent List Of Ingredients
Not all Vitamin C formulas are created equally, so be sure to check labels carefully for quality and potency. Additionally, many Vitamin C serums only list a handful of their key ingredients. Beware of this practice, because that's when the manufacturer can slip in some potentially harmful, synthetic ingredients.
Money-Back Guarantee
Skincare is a multi-billion dollar-a-year industry, which makes it easy for manufacturers with poor products to slip through the cracks. So make sure to buy a Vitamin C serum from a brand that's willing to stand by its product with at least a 30-day, 100% money-back guarantee.
The 5 Best Vitamin C Serums On The Market
After extensive research, testing, and metrics provided by our Smart Review Ranking System, we've put together this definitive list of the best Vitamin C serums available right now. When putting together our rankings, we consider the quality of ingredients, safety, return policies, projected effectiveness, and customer satisfaction