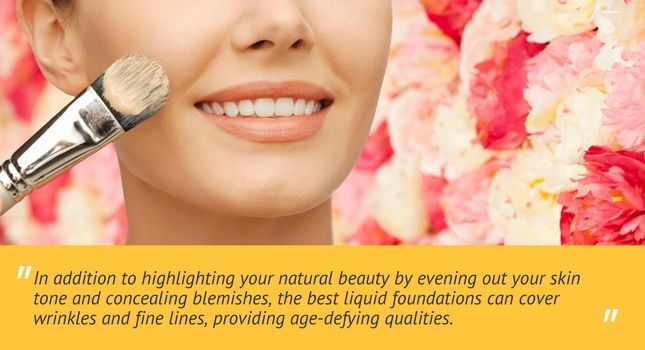 For many women, liquid foundation can be a lifesaver. In addition to highlighting your natural beauty by evening out your skin tone and concealing blemishes, it can cover wrinkles and fine lines, providing age-defying qualities.
Unfortunately, if you've ever browsed the makeup aisle at your favorite store, you know that there is a seemingly endless array of liquid foundations to choose from. Even worse, quite a few of them contain ingredients that have been shown to be toxic, such as propylene glycol, propylparaben, methylparaben, PEG/ PPG 10 dimethicone, and retinyl acetate. (1)
By the way, this is just a short list. There are several others that have been shown to do everything from act as a carcinogenic to trigger migraines, asthma attacks, and allergies. (2)
Of course, it can be almost impossible to figure out where to even start when you are looking for a high-quality, yet safe liquid foundation. Fortunately, there are liquid foundations available that only contain safe ingredients, though they aren't always available in stores.
However, that's no reason to worry. The following takes a look at liquid foundations, including what type of ingredients are often used in them, as well as what ingredients are safe and which ones you should avoid, before reviewing five of the top liquid foundations currently on the market.
What Ingredients are often found in Liquid Foundations?
Although every manufacturer is a little different, there are certain ingredients commonly found in liquid foundations. They include:
Emulsifiers: Used in foundation to ensure water and oils stay mixed together. Remember, oil and water will stay separate otherwise. Safe emulsifiers include cetearyl alcohol, sodium cetearyl sulfate, sorbitan sequioleate, and stearic acid.
Surfactants: Surfactants are known for their conditioning, emulsifying, defatting, and thickening effects. Examples of safe surfactants include sodium lauryl sulfate and cetearyl or stearyl alcohol.
Preservatives: Preservatives are a

crucial component of liquid foundations

because they protect it from the growth of

microorganisms that can contaminate the foundation

, which leads to spoilage or causing infections or interactions. Safe options include rosemary leaf extract, vitamin E, and vegetable glycerin.
Glyceryl polymethacrylate: Used to

enhance the texture and application

of various skin care products. This ingredient is safe. (3)
Lecithin: Lecithin is a skin-conditioning agent that acts as a surfactant/emulsifying agent in cosmetics.

According to the Cosmetic Ingredient Review (CIR) Expert Panel

, lecithin is generally safe when used in cosmetics. (4)
Boron nitride: Used to disperse pigment evenly and absorb excess oil in the skin, boron nitride

has been shown to be extremely safe

when used in cosmetics, according to multiple independent lab studies. (5)
Ingredients to Avoid in Liquid Foundations
As with any product, you should always read the ingredients to ensure you aren't getting more than you bargained for. (6) Liquid foundations are no different. Be sure to steer clear of:
Phthalates
These can disrupt the endocrine system, resulting in reproductive, development, and neurological damage.
Parabens
Evidence suggests they interfere with hormone function and can mimic estrogen, interfering with the nervous, immune, and reproductive system.
Lead
This is a proven neurotoxin linked to delayed puberty in females, decreased fertility, and miscarriage.
PEG compounds
These are often contaminated with ethylene oxide, a known human carcinogen that may also harm human development and the nervous system.
Butylated compounds
These can disrupt the endocrine system and are linked to developmental, organ, and reproductive toxicity.
Siloxanes
Siloxanes are toxic to the reproductive system and disrupt the endocrine system.
Octinoxate
This is linked to thyroid disorders and endocrine disruption.
Formaldehyde-releasing preservatives
This group includes quaternium-15, which is a known human carcinogen.
What to Look for in a Liquid Foundation
When it's time to try out a new brand of liquid foundation, here are a few tips.
Pick One that suits your skin type
We are all individuals, and that is as true in cosmetics as it is anywhere else. Be sure you know what type of skin type and tone you are before purchasing.
Check for organic, natural ingredients
Some chemicals may be necessary to create the foundation itself, but you should always strive for as few as possible. Using foundations certified organic is one easy way to do this.
Long-lasting formula
The best liquid foundation in the world won't do you any good if it can't last for the duration you need it. Keep in mind the length of time you'll want to be wearing your foundation when checking out different brands.
3 Secrets to Applying liquid foundation
always use a brush or sponge
We can't all be cosmetics professionals, so stick to the right tools to help you apply your foundation. Using a brush helps you to blend and buff the foundation into your skin. It'll look far more natural this way. Oddly enough, the best brushes are often the synthetic ones (not animal hair).
It's not for your whole face
Foundation is meant to smooth out and create a blended tone to your skin, thereby eliminating any unevenness to your face. it's not a mask.
concealer comes second
Foundation, just like with a house, is the base of everything to come (well, except for primer). If you want to use concealer, that's fine, but just be sure that it's actually able to conceal something.
OUR SPECIALIZED RANKING SYSTEM
Now, that you have a better understand of liquid foundations and how you can benefit from their use and proper application, it's time to look at some of the most popular brands on the market. At Smarter Reviews, we employ a comprehensive evaluation system to analyze and measure the full value of products. This is based on ingredients, safety, potential effectiveness, return policies, and overall customer satisfaction. We call our method the Smarter Reviews Ranking System.
TOP 5 Liquid Foundations
Now, it's time to look at five of the top liquid foundations.