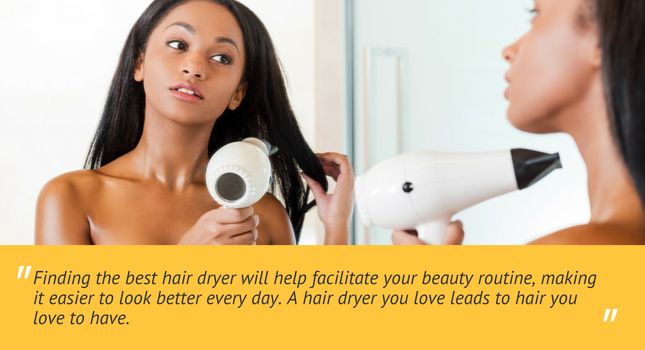 With hundreds, if not thousands, of hair dryers on the market, finding the best hair dryer for your hair type can seem like an impossible task. After all, they offer different numbers of settings and attachments, as well as an array of technology the manufacturers claim will leave your hair absolutely gorgeous.
It's no wonder that even deciding where to start your hair dryer search can be overwhelming. But we all know the many benefits of blow drying your hair compared to towel drying.
Fortunately, we're here to help. Below you'll find a detailed list of what to look for in a hair dryer, along with what to avoid. After that, you'll find our list of the top 5 hair dryers currently on the market.
What to Look for in a Hair Dryer
Finding the best hair dryer will help facilitate your beauty routine, making it easier to look better every day. Here's what you should know:
Check out the type of motor
There are two types of motors. (1)
AC Motor: Larger and heavier, an AC motor is efficient and has an extremely powerful airflow, which results in faster drying. Though they tend to be more expensive, they also last longer and are quieter than DC motors.
DC Motor: Smaller and lighter, this motor isn't quite as powerful as an AC motor, but it will get the job done. These hair dryers are less expensive, but they also don't have the long lifespan that an AC motor does.
Consider the wattage
The higher the wattage, the more wind power a hair dryer possesses. This shortens your styling time and prevents your hair from being exposed to damaging heat. For an at-home dryer, many hairstylists suggest a wattage of 1800 to 2000. (2)
Determine whether or not it is ionic
Ionic hair dryers emit negative ions that force blobs of water molecules to divide into smaller particles. (3) This causes them to evaporate faster, which shortens your drying time and results in a sleeker, more polished look.
An ionic hair dryer is a must if you have hair that is thick and frizzy. However, if your hair tends to be oily and flat, you'll want to stay away from an ionic dryer.
Look for the words porcelain and ceramic
Ceramic and porcelain are used as a replacement for a dryer's plastic or metal heating elements, allowing the heat to be distributed as gently and evenly as possible. A more consistent temperature and less harsh heat are ideal for thin, dry hair.
Look for a "Cool Shot" button
This button emits cool air, which locks in your hairstyle and boosts your hair's shine by sealing the cuticle.
Opt for accessories
Some hair dryers come with a diffuser, which keeps curls intact and smooth, and/or a concentrator, which straightens and de-frizzes hair. Both are great to have.
What to Avoid in a Hair Dryer
Not all hair dryers are equal. Here's what may be a deal-breaker when choosing an ideal hair dryer.
Cost Is not the same as quality
Don't automatically go for the most expensive hair dryer. hair dryers can get really costly, but there's really no reason to spend tons of money on one. Just like everything else, the one that costs the most isn't always the best option.
In fact, you'll find that all five hair dryers included in our list below can be purchased for under $50.
Stay away from dryers with one heat setting
You want to select a dryer that has at least three different heat settings. Keep in mind that high heat is meant for coarse, thick hair, while the low heat seating is ideal for fragile, thin hair.
Don't choose a heavy hair dryer
Hair dryers that weigh more than 1 or 2 pounds can quickly become uncomfortable. (4) If you don't like holding it long enough to blow dry your hair, you'll add strain to your routine.
OUR SPECIALIZED RANKING SYSTEM
Now, that you have a better understand of hair dryers and what to look for when shopping for one, it's time to look at some of the most popular products on the market. At Smarter Reviews, we employ a comprehensive evaluation system to analyze and measure the full value of products. This is based on component quality, safety, potential effectiveness, return policies, and overall customer satisfaction. We call our method the Smarter Reviews Ranking System.
TOP 5 Hair Dryers
Now, it's time to look at five of the top hair dryers.