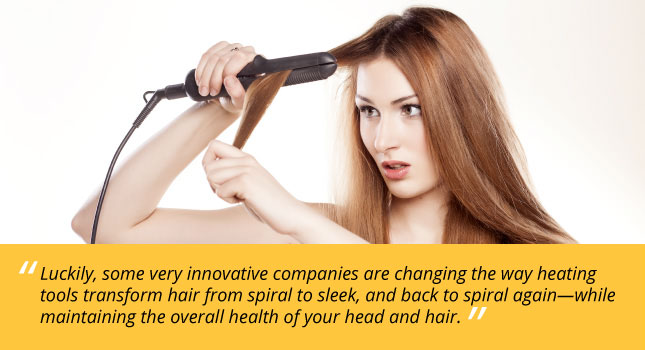 It's a sad fact. Some of us just aren't born with the gorgeous curls we often covet. If you're a member of this group, you know by now that old-fashioned curlers worn all night, or the more modern curling iron, are your best options for getting the curls you crave.
Since curlers aren't all that comfortable, a curling iron is definitely the better option. There's only one problem. Which one should you buy?
When it comes to curling irons, there are several things you need to consider. To help you, here's a quick list detailing what you should mull over when looking for a curling iron, as well as what you'll want to look for and avoid.
In addition, you'll find reviews of the top five curling irons currently on the market, making it easy for you to narrow your selection down.
It's All About The Barrel Size
The size of the barrel determines the size of the curls. Here's what barrel sizes mean for your hair styles:
½ inch
If you dream of Shirley Temple ringlets, you'll want to go this small. You can also use a ½ inch barrel to create a 1920s-style finger wave. (1)
¾ inch
For if your hair is naturally curly and you want to touch up your curls.
1 inch
Definitely versatile, a 1" barrel can be used to create beachy waves or more polished waves. This is the most common and popular size on the market.
1 ¼ inch
This size is exactly what you need to create big, voluminous waves, but you'll need medium to long hair to get the results you want.
1 ½ inch
If you have long, heavy hair, this barrel size will give you voluminous waves with tons of body by giving it a bit of lift at the roots.
2 inch
Comparable in size to a round brush, a 2" barrel is perfect for faking a blowout because you can simply smooth out the length and give it a little curl at the bottom.
The Different Barrel Materials
Tourmaline and Ceramic:

Popular and safe

, tourmaline and ceramic curling irons release negative ions that

smooth your hair's cuticle and eliminate frizz

, giving it a smooth, shiny appearance. If you use a curling iron almost daily, this type will do the

least amount of damage

to your hair. (2)
Titanium: Also containing negative ions that reduce frizz and protect hair, titanium is best for coarse and unmanageable hair, as well as hair that is hard to heat.
Gold and Chrome: Although they heat well, gold and chrome barrels really

don't do anything to fight off frizz

.
Metal: If your hair refuses to hold a curl, a metal steam barrel can work. It releases steam, which

helps your hair hold

its curl.
What to Consider When Choosing a Curling Iron
Once you have the barrel size selected, it's time to examine the other features available on the top curling irons available, as well as some handy rules of thumb when shopping for a new curling iron.
Number of heat settings
The heat setting is determined by taking a good look at your hair. If you have super-thin hair, you need low temperatures to prevent damage (as low as 175°F). Thicker hair can withstand higher temperatures, which is necessary if you are curling large amounts of hair at the same time.
Curling iron vs. Curling wand
Keep in mind that a curling iron has a clamp to hold your hair in place, but you'll have to hold your hair in place while curling it around a wand. (3)
You can't go wrong with safety features
Look for a curling iron that has an automatic shutoff, while also offering protection for your hands, such as super long cool tip and thumb grip to prevent you from accidentally burning yourself.
Pay attention to where the on/off switch is located
Curling irons are notorious for getting cut off when you accidentally press the on/off switch while using it. Either choose one with a separate on/off switch or one where the switch is slightly hidden.
Opt for a swivel cord
Swivel cords make it so much easier to curl your own hair. It's always a good idea to opt for a slightly longer cord too.
What to Avoid in a Hair Curler
Be careful when hair curler shopping, as you can end up wasting time and money if you don't beware of a few particular aspects:
Heavy or uncomfortable curling irons
Your arms can grow tired while curling your hair, particularly if you choose one that is especially heavy or has the thumb grip located in a weird position.
The wrong size barrel
You probably have a certain style of curl you prefer. Be sure that style matches with the size of the barrel or you'll never be able to get the results you're looking for.
Don't mistake high price for high quality
A huge price tag doesn't necessarily mean this is the best curling iron. You'll find that out when you check out our review of the top 5 curling irons.
OUR SPECIALIZED RANKING SYSTEM
Now, that you have a better understanding of curling irons and what to look for when shopping for one, it's time to look at some of the most popular products on the market. At Smarter Reviews, we employ a comprehensive evaluation system to analyze and measure the full value of products. This is based on component quality, safety, potential effectiveness, return policies, and overall customer satisfaction. We call our method the Smarter Reviews Ranking System.
TOP 5 curling irons
Now, it's time to look at five of the top curling irons.